Looking for agency and price: cc_junfeng@163.com
There are two types of models: open and closed.
This model is an environmentally friendly electric vehicle specially developed, operated, received and transported by Junfeng Company for tourist attractions, campuses, resorts and other places. The "Junfeng" electric sightseeing car has a beautiful appearance, good comfort and high cost performance. The 11 seats can take more tourists, and it also reduces the time for tourists to wait in line for the bus, and the scenic spot also obtains greater benefits.
1) The appearance design is novel and beautiful
The tourist bus adopts a streamlined design, which is beautiful and eye-catching, adding vitality and vitality to the scenic spot, and at the same time, it also facilitates the travel of tourists, allowing them to have more time and energy to browse the beautiful scenery. The split body also facilitates daily maintenance and replacement of parts.
(2) The vehicle is safe and stable
The manufacturer adopts high-strength steel frame raw materials to ensure that the chassis of the whole vehicle is more solid; car-type suspension shock absorption, four-wheel hydraulic braking system, special vacuum radial tires and safety laminated glass that has passed the national 3C certification, the operation and carrying passengers are more stable and safe . The 360-degree blind-spot design allows drivers to fully grasp the surrounding road conditions and effectively avoid safety accidents.
(3) Low operating costs and high returns
As oil prices continue to rise, Junfeng electric sightseeing cars are more economical. The manufacturer is equipped with a 210Ah large-capacity battery, which can run for about 100 kilometers when fully charged, and the operating cost is no more than 8 yuan, which is only 1/6 of the fuel vehicle; using the international-level American Curtis electronic control system, the charging time is greatly shortened , 8-10 hours can be fully charged, operating during the day and charging at night, perfect match, maximum efficiency, higher income.
open model: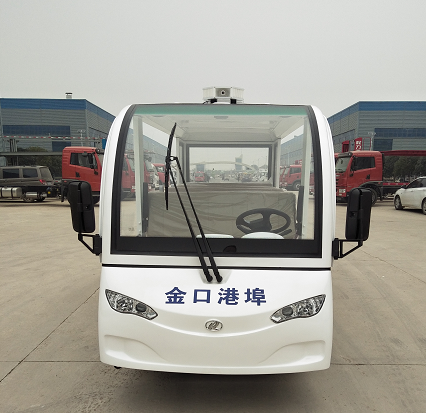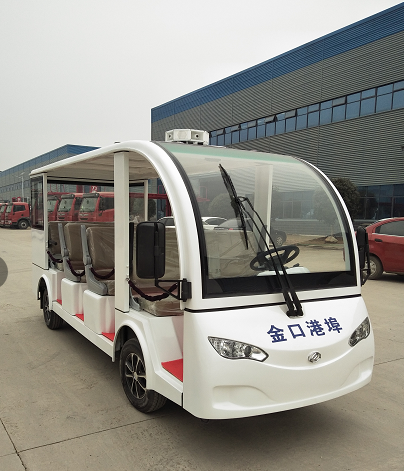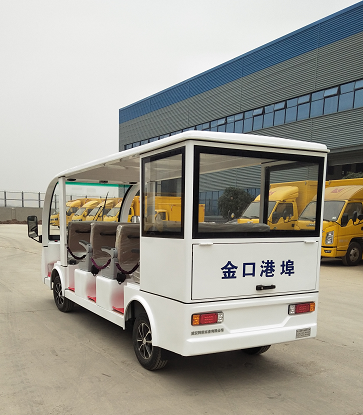 closed model:
vehicle parameters:
<
俊风11座电动观光车
Junfeng 11-seater electric sightseeing car(JF-11G) 20211101
型号 model
JF-11G
载客数量 Number of passengers
11(人)
外型尺寸(长)Dimensions (length)
4690(mm)
外型尺寸(宽)Dimensions (width)
1480(mm)
外型尺寸(高)Dimensions
20500(mm)
轴距 Wheelbase
2800(mm)
前轮距 Front track
1220(mm)
后轮距 Rear track
1200(mm)
最小转弯半径 Minimum turning radius
6(m)
最小离地间隙(满载)Minimum ground clearance (full load)
145(mm)
最高车速 Maximum speed
35(km/h)
整备质量 Curb quality
970(kg)
最大爬坡度 Maximum grade
20(%)
驻车能力 Parking capacity
15(%)
电机额定功率 Motor rated power
5(kw)
制动距离(满载、20km/h) Braking distance (full load, 20km/h)
≤5(m)
系统电压 System voltage
48(V)
电池容量 battery capacity
200(Ah)
一次充电时间 Charging time
8-10(h)
一次充电续驶里程 Driving range on one charge
≥90(km)
This model is produced in accordance with Chinese sightseeing car standards and is used in parks and playgrounds.